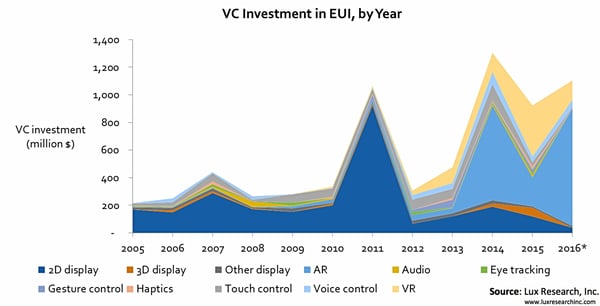 Venture capital (VC) firms have invested $7 billion into electronic user interface (EUI) technologies between 2005 and today, but momentum is building in the space with a record $1.3 billion invested in 2014, and 2016 already seeing $1.1 billion invested as of the end of Q1. There is plenty of nuance under the growth of VC in this sector, however. The technologies receiving the funding have evolved significantly, as newcomers like augmented and virtual reality have been garnering much of the funding over the past several years.
2D displays technologies have received the most funding of any individual technology area over the entire time period, receiving almost $2.6 billion, unpinned by massive rounds such as the $700 million whale into Plastic Logic in 2011. That said, augmented reality (AR) investments have taken off over the past several years, growing steadily from about $8 million in 2005 to $38 million in 2012, and then significantly expanding to $669 million in 2014 and $175 million in 2015. As of March 2016, AR has already received $856 million, due to a $793 million round raised by Magic Leap. Virtual reality (VR) has also seen a significant spike, growing from $32 million in 2012 to $371 million in 2015. Of the user input technologies – touch controls, voice controls, gesture control, and eye tracking – touch control received the most VC investment, with $560 million. Voice controls was second with $335 million, followed by gesture with $133 million, and eye tracking with $94 million. Touch controls have steadily increased almost every year from 2005, when $12 million was invested, until 2014, when $119 was invested, but fell off in 2015 with only $31 million.
Within this landscape, it is interesting to see what corporate investors – investors with presumably a better bead on the market – are investing in. Corporate venture capital (CVC) has become more active in recent years, participating in more than 70 funding rounds since 2014. Intel, Samsung, Qualcomm, Google, and BASF were the most active CVCs, but their portfolios vary widely. Intel Capital is the most active CVC in the field, making 47 transactions in 34 companies, far ahead of others. Within Intel's transactions, the company had nine deals in 2D display companies, eight in voice control, seven in AR, six in touch control, and 17 in other technologies. Google and Samsung made investments throughout the virtual reality ecosystem, having made investments from hardware to content generation to social media, while Intel maintains a broader portfolio across 2D displays, augmented reality, voice controls, touch controls, and virtual reality. In this sense, the leading CVCs are building out entire AR and VR ecosystems.
CVCs in this space, although still relatively less active than institutional VCs in seed and A rounds, show more interest in these higher risk investments than is typical with 17% of CVC transactions invested in the seed round. The lead CVCs in the space traditionally operate with higher risk profiles than the broader CVC group, but this also means CVCs coming from more conservative sectors will either need to change their risk profile and engage sooner or partner effectively in the CVC community with the Intels, Googles and Samsungs of the world. Despite the higher than usual risk profile, CVC-backed companies still have a better outcome profile than the general venture-backed cadre. Out of the 98 CVC-backed companies, 17% were acquired, 3% went IPO, and zero went out of business. In comparison, the same figures for general VC-backed companies were 12%, 1%, and 5%. Needless to say, there is some clear frothiness in the EUI startup space so investors should enter at their own risk, especially in AR and VR areas. Thankfully, there are predictive analytics available for which startups will be successful.
By: Tony Sun