The U.S. has always been the world's leading market for plug-in vehicles. Last quarter, that story changed dramatically: In our Q4 2015 Automotive Battery Tracker (client registration required) update, we found that China sold an astonishing 120,000 plug-in vehicles. This performance means that not only has China leapt to the top of the plug-in sales leaderboard, but also that it quadrupled the U.S.'s volume of units sold. It is a development worth reflecting on: This shake-up has wide-ranging implications for the balance of power in the battery and plug-in vehicle industry, and will profoundly affect how stakeholders plan their future investment and deployment strategies.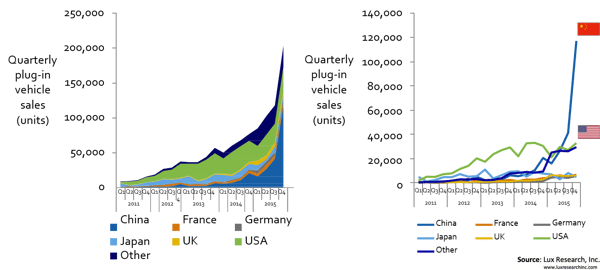 However, there is also significant risk of the industry over-hyping the China market, a trend clients should be wary of. Our analysis flags four key concerns behind the raw sales numbers:
1. The China market remains heavily policy-driven, which is expensive and unsustainable: Buyers of plug-in vehicles in China enjoy a range of benefits, including generous financial incentives which subsidize the purchase price, as well as the ability to bypass license plate restrictions and waiting times [(see the report "Clearing the Haze: Demystifying Energy Storage Opportunities in China") client registration required]. However, such programs can be a victim of their own success. As plug-in vehicle sales increase, subsidies become increasingly expensive for governments, and must eventually be phased out. Plug-in vehicles can also begin to clog roads as their numbers increase, leading to negative backlash and a curtailment of even some non-financial benefits (client registration required). As these subsidies gradually expire, China will have to be careful to transition its plug-in vehicle industry gently, to avoid a sudden crash in unit sales.
2. Fraud happens in China, and the scale of misreporting remains opaque: The aforementioned generous subsidies have invited fraud in plug-in vehicles, where some companies try to abuse policy for monetary gain. For example, China's central government recently launched a fraud investigation around plug-in vehicle sales, where vehicles are not really built in working conditions, or assembled to very poor standards, and parked in "ghost fleets" that never get used. The government said that it will begin to carry out surprise inspections as a way to combat this fraud. Until they are able to control this situation, the claimed unit sales in China must be taken with a grain of salt.
3. China's vehicles are typically domestic-only offerings, and cannot compete on the world stage, for now: Most OEMs' plug-in offerings are "global" – for example, the Tesla Model S is sold not just in the OEM's U.S. home market, but also in Europe, China, and beyond. Similarly, other leading plug-ins like the Nissan Leaf and Mitsubishi Outlander are sold all around the world. However, China's market stands apart in this respect. As the figure below shows, the best-selling plug-ins in China are domestic-only offerings, which are not sold anywhere else in the world. This trend makes it less likely that the high sales of plug-ins in China will spill over to other markets soon. However, some China-based OEMs are looking to change this trend: For example, BYD has already started selling a few of its plug-ins in Europe and the U.S., and will be looking to ramp up its international sales over the coming years. This leap will be difficult – requiring significant investment in boosting initial quality, long-term reliability, and overall performance – but some China-based OEMs will be able to make this expansion eventually.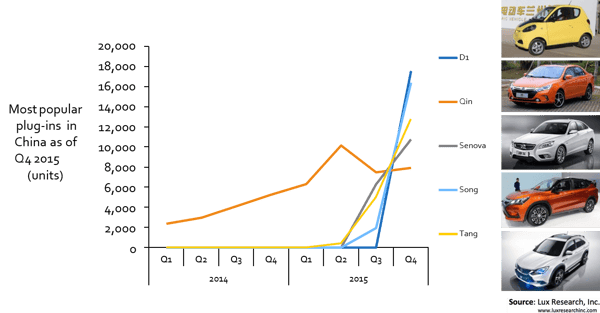 4. The battery pack size is much smaller in China than in other markets like the U.S.: In our analysis, we have found that in Q4 2015 the average pack size in plug-ins sold on the U.S. market was 53 kWh per vehicle, helped by the popularity of the Tesla Model S and new Model X. However, in China, plug-ins use much fewer batteries – on average, just 19 kWh per average plug-in sold. There is also the issue of which types of batteries are preferred: China's developers continue to use large amounts of lithium iron phosphate (LFP) cathodes, whereas in the U.S. and Europe OEMs are moving towards newer nickel manganese cobalt (NMC) cathode chemistries. Therefore, although the China market looks alluring from a raw vehicle unit sales count, the preference for smaller battery packs and older cathode chemistries means that developers should judge their investment levels carefully.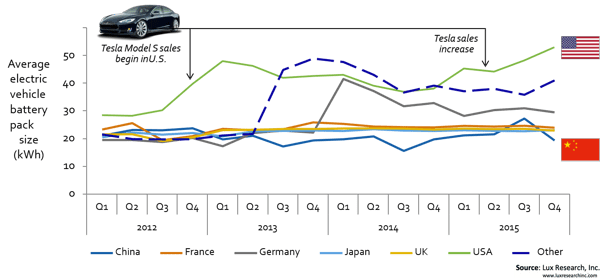 Altogether, these factors do dial back some of the hype of the China plug-in market. Clients should still regard China as a leading growth engine for plug-in vehicles and battery demand, but must be careful to take into account these various nuances when drawing up business plans. Over time, the country's market will transition away from policy-driven demand, and reporting of true vehicle sales will become more accurate. Until then, opportunities in China will carry a relatively high risk compared to other geographies.
By: Cosmin Laslau